Happy New Year
Wednesday, January 11, 2017 | Uncategorized
Welcome back to music lessons, everyone. Here is our January update.
We had a wonderful time with group lessons and parties for the young students and the adults in December and January. It is our pleasure to do parties as they are great motivators, and we are happy to see everyone doing well with their music. The Valentine piano parties will be coming up in February, and we will send invitations around the 25th of January.
Official receipts for purposes of the Children's Arts Tax Credit will be issued before the end of January. These will be sent by e-mail and will also be available through the parent/student portal under the Invoices tab in "Accounts and Invoices". The government has eliminated this tax credit in 2017.
Beginning February 1st the billing notices will be simpler:
they will show only the amount due rather than being a full statement;
for people using automatic payments it will be clear on the notice that no payment is required – you will also get an instant receipt; and
receipts will be sent for every payment received, including post-dated cheques when they are processed.
The "harmonyhouse robots" will streamline and automate things as much as possible.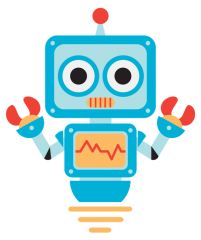 Keep having fun with music!